The Canadian National Championship was hosted by the Squamish YC as part of their Squamish Open Annual Regatta (SOAR) on the August 10/11 weekend.
The following report comes from Debbie Kirkby:
Day one winds started 12-15 knots but by race 2 ballooned to 20-24 knots gusting to 30 knots but only about 2/3 of the very long leg where it would drop in speed and become shifty. This helped with spinnaker launches and early gybes. This wind pattern is always there with slight variations in direction.
The top 4-5 boats stayed close often finishing overlapped. All courses were windward leeward finishing on the run. With the very long downwind leg it often payed to reach at a hotter angle and gybe more often. Many places changed as a result. Gorgeous venue and very fun sailing with no need to drive anywhere and the infamous Howe Sound Pub and Brewery only a one block stagger from the club!
A keelboat participant said "I was racing SOAR (Squamish open annual regatta) this weekend, it was a total blast, 25 knots Saturday, 20 Sunday. And there were tons of fireballs! Oh the carnage! They were fun to watch."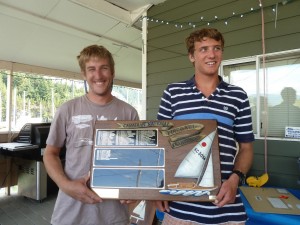 Fraser McMillan and Kieran Horsburgh
Canadian Champions 2013
Kelly Gallins and Eric Diller are the winners of the Classic Boat Award
Full results can be found at Fireball Can Nationals-1