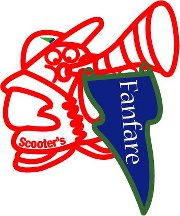 FANFARE was the inaugural Ottawa Valley Championship.  Saturday's racing got underway after a short delay waiting for the wind.  While the first races were sailed in lighter conditions the wind built steadily throughout the day to a solid 15knots with gusts into the 20's.  Following the 55+ knots registered the previous evening that was a relief.
Joe Jospe and Rob Levy teamed up together and it took them the first race to relearn their crewing skills (whoever was crewing in that race) and Rune Lausten and Pete Van Rossem took the bullet.
Levy/Jospe (or Jospe/Levy) took the next race followed by Rune and Pete.  Unfortunately Pete had to leave to attend a wedding in Kingston and so that was the end of their racing for the day.
Meanwhile Pierre Carpentier and Tom Bird encountered equipment issues and missed the first three races.  Upon their return to the water in Race 4 they promptly showed winning form with a win to begin a comeback that would eventually see them place third in the regatta.
After the traditional Hip of Beef dinner, delayed a little due to a power outage from the previous nights storm, the fleet returned on Sunday to lighter conditions.  Four points separated McEvoy/Faison from Dave Landsberg and Mona Barakat.; Very shifty and dying winds confounded nearly everyone with each boat having apparent moments of glory only to find themselves on the elevator to the bottom of the fleet.  McEvoy and Faison sailed their two drop races in these conditions but recovered to take a second in the final race of the day.  Dave and Mona also had some difficult results which opened the door for Carpentier/Bird and Lausten/Van Rossem to leapfrog them into third and fourth place.
Oh and Jospe and Levy finished in first with equal combinations of firsts and seconds….but Joe who was crewing on Sunday pointed out that he crossed the line first!
Full results are here