Weathermark Sailboats Is pleased to be the title sponsor for the 50th Midwinters and the Fireball North American Championship at Davis Island Yacht Club March 9 – 15, 2015.
The Fireball Class theme is Fast, Fun and Friendly. For 50 consecutive years the Class has been hosted by Davis Island Yacht Club, the "Sailingest Club in the South". Lots of classes have been around longer, but few have enjoyed an unbroken string of regattas at one club for so long.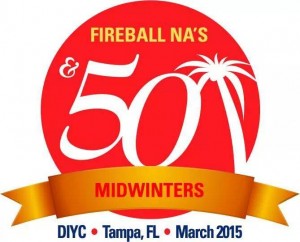 This year crews are expected from all over the North American continent as well as from Europe. The list of expected participants includes many Canadian and US National Champions, North American Champions and an Olympic Gold medalist. And because it's a bit of a reunion many of the old timers in the class are expected to turn-up to help maintain the Fun and Friendly part of the class tradition.
The Fast part of the equation will be maintained as well, as the first Weathermark boat in North America takes on the Winders to showcase the state of the art technology. A newly built boat from the West Coast is expected as well as new and not so new home built woodies. There will be something for everyone.
Originally designed by Peter Milne in 1962, the Fireball is a one-design high-performance sailing dinghy. The Fireball is sailed by a crew of two, and sports a single trapeze, symmetric spinnaker and chined hull. The class is strictly controlled, but has adapted to advances in building techniques. The hulls (plywood, FRP or composite) have a strict minimum weight limit of 168 lb (76.4 kg) (with correctors).
The Fireball is a highly competitive dinghy, with large fleets worldwide and state, national, continental and world championships held annually. Competitors of all ages help make this class enjoyable for everyone. The performance of the boat is very dependent on tuning as the Fireball's rig can be adjusted in numerous ways.
The 2015 World Championship will be held August 17 to 28TH in conjunction with the European Championships in Pwllheli Wales. Charter boats are expected to be at a premium for the event. And there's always that worry about what kind of condition the charter boat will be in. Weathermark has a solution. Order a new boat for delivery in the UK and put the cost of your charter towards the price of the boat! We'll arrange to get the boat back to North America.
Contact Mike (mike@weathermarksailboats.com) for details